Live Steamy is an independent handmade Steampunk design brand run by my husband (Travis) and I (MelanieGrace) out of our home in Savannah, Georgia. At Live Steamy we believe in Steampunk for every occasion, and for every individual, and we definitely practice what we preach and make it a family event!
We make nearly everything out of junk we either have in our art room, have collected from various places, buy at the thrift store, or find on the ground. We do costume Steampunk as well and other odds and ends. We mostly sell our through
our Etsy Store
, but there are various other stores nationwide that are now carrying our products. For a comprehensive list of stores you can find us in, please go
HERE
.
This blog is mainly maintained by me, MelanieGrace. I found Steampunk a few years ago when I lived in Denver and I was mostly attracted by the use of so many different metals being mixed into one piece. Beyond that I loved the idea of taking old junk and turning it into fashion art. As I learned more about this subculture I just kept falling more and more in love! Clocks and gears and rust and nuts, corsets and bustles and goggles. It was a new world opening up before me and I couldn't wait but to dive right in.
At first I was only making stuff for myself. Just tinkering around really and letting my ideas flow. But when I met Travis, he loved my work. He went on and on about design and balance and the uniqueness of my work. Travis gave me the confidence I needed to get out into the world and start selling my work.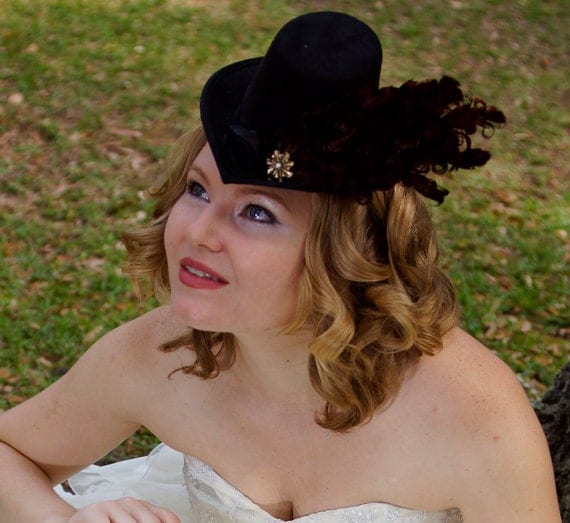 It is truly amazing to make something you love so much and realize that other people love it too! I could never ask for more than for even just one other person to see my work and truly fall in love with it. I don't paint or draw the type of things that make people have true emotional reactions over. I'll never write a symphony that makes people cry they are so touched. But if I can make just one piece that someone in the world can wear and feel amazing in than I will feel like I have reached a creative greatness in my own right. My art touches me, excites me, fills me up. All I can wish is to share that with others. :)
We recently added a new little member to our Steampunk family. Greyson is the best thing I've ever made, and I'm so happy to have him and his sweet little heart with me. He's even getting in on the whole Steampunk goodness, but his favorite of Mommy & Daddy's projects is
Growing Up Geeky
which is dedicated to making geekery for little guys just like him!
Another ambition I have for my Steampunk work is to create a book of photos of all my Steamy pieces. I have found a photographer to work with and now I just need to get in gear (hehe) and start shooting! I'm so excited for this project and I will keep ya'll up to date.
As always thank you for visiting me and viewing my work.
I am filled with gratitude for you.